Sep 14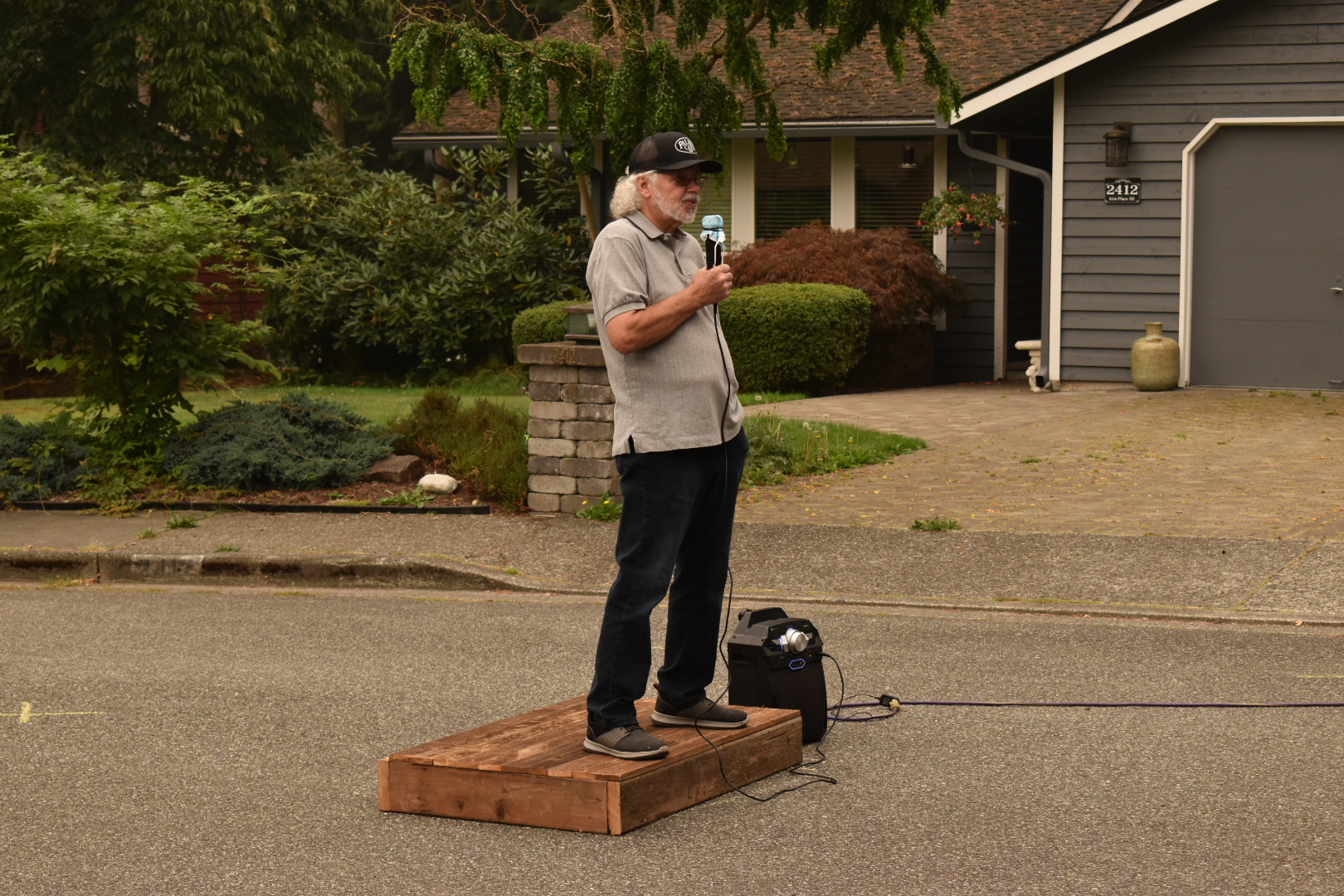 The community town square meeting was held on September 12th. There were approximately 35-40 people who attended, and there were around different 7 speakers. While initially had expected a higher turnout, the unhealthy levels of smoke in the air likely contributed to a lower turnout.
Michael Wright led the meeting stating that the intention of the meeting was to inform the general community and obtain more participation for our cause. Michael Wright also talked about promotion ideas- and asked if we should also design 'Save Wood Creek' themed masks and t-shirts. Most of the audience really liked the idea of having t-shirts and said that they would purchase on if they become available. 
Michael Mallahan discussing the mitigation Land Bank strategy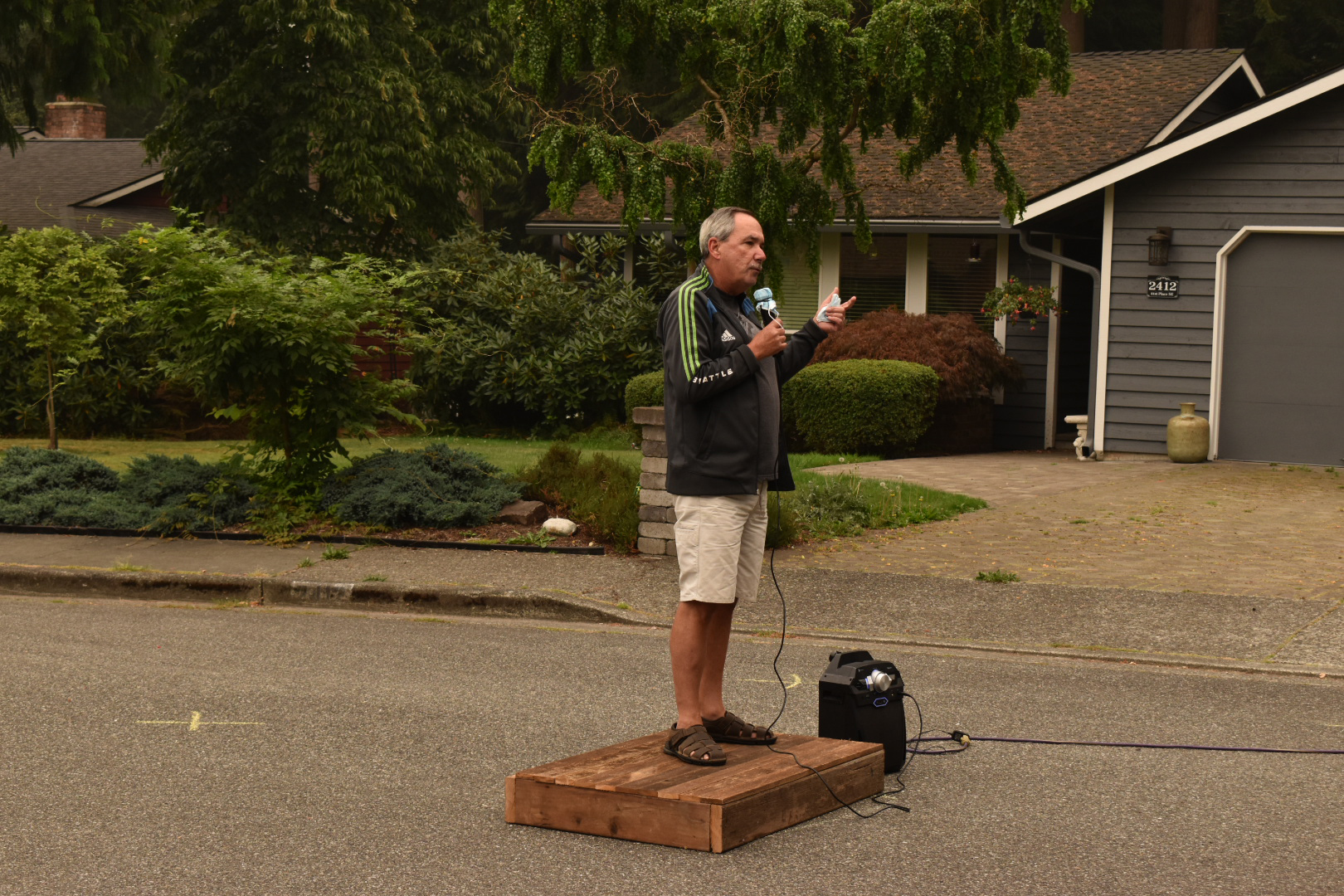 Michael Mallahan spoke and provided information on the mitigation land bank that Jeff Mallahan is researching for us. Jeffrey Mallahan, a senior Wetland Ecologist, is working with his own company, Wetland Resources, to research the potential of using Wood Creek as a land bank. Michael explained that a mitigation land bank allows a developer to build on a small wetland site by purchasing credits to maintain a larger wetland area that has more ecological value. For example, for a developer to build on a small wetland, he can purchase credits to maintain a larger site- such as our Wood Creek forest. This is the same model that was used to protect the Japanese Gulch, another wetland in Mukilteo. This is one of the Save Wood Creek Everett's main strategic prongs to in order save our forest in perpetuity. 
I spoke to the group asking them to subscribe to our website to receive news and updates. We are posting all of our meetings and announcements on the website in order to be as transparent as possible regarding our communications. If anyone is experiencing any issues with the site, I asked them to contact me directly using my gregory@savewoodcreek.org email address. We also have Facebook and NextDoor groups that can be leveraged for increased community participation.
Discussion about the technology SWCE Zoom meetings took place. Of import we need to make it clear that you don't need a computer to join the Zoom meetings, you can access it with your phone.
Jay Himmelman and Tanya Roost making a presentation about Jay's trials with 'Armageddon Creek'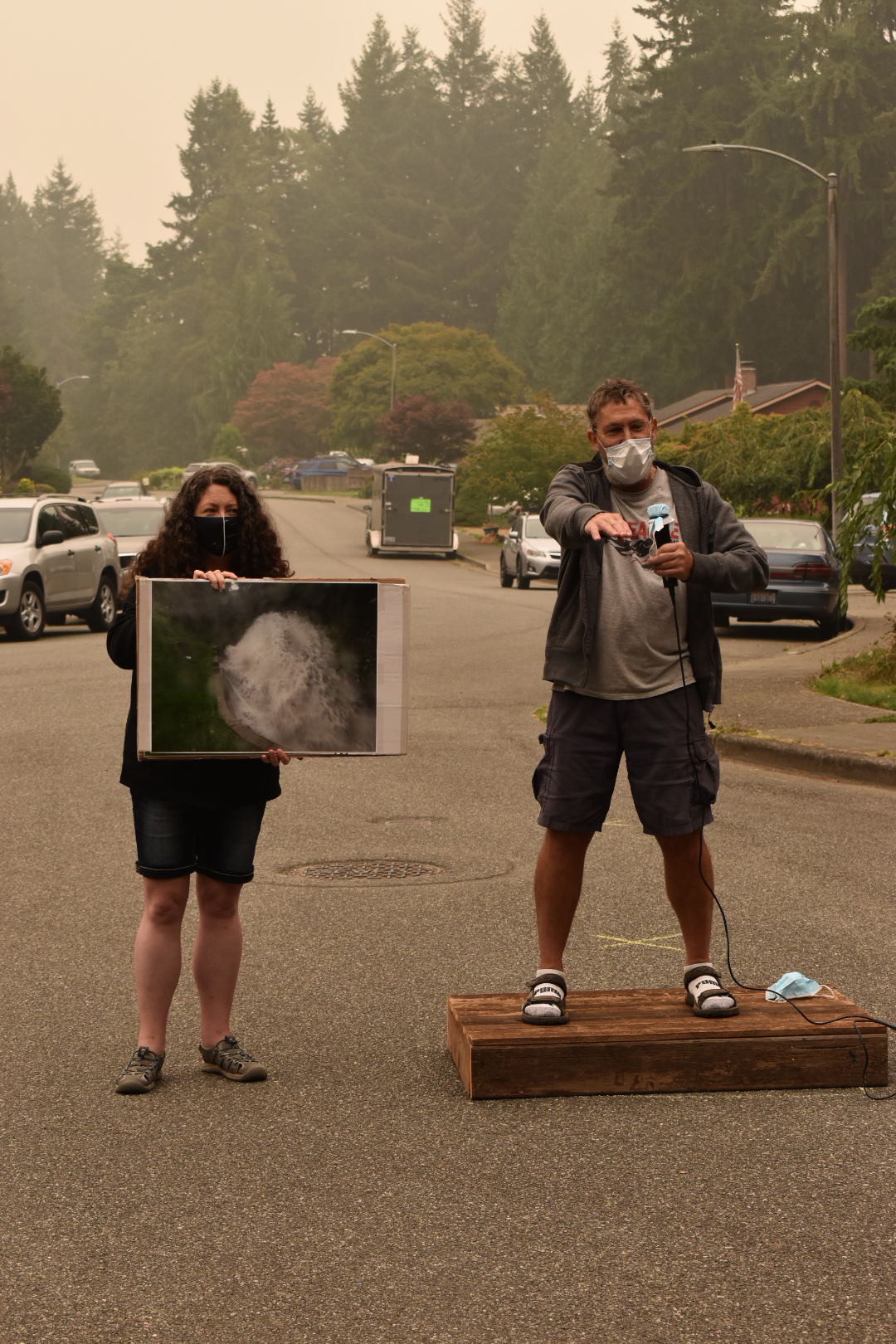 Jay Himmelman spoke at the meeting and provided large 3x2 pictures of Armageddon Creek and summarized all of his trials that he had to go through. I found Jay's presentation to be quite appealing. He presented his story quite well!
Finally, Christian Roost came up and shared his experiences with conservation issues that he experienced during his childhood in Europe. He emphasized the need to find a permanent solution to preserve Wood Creek and that we should not rest on our heals.
To end the meeting, Michael Wright strongly recommended the community to attend our meetings and get involved. 
This entry was posted on September 14, 2020 at 12:03 AM and has received 456 views.
Comments
There are currently 0 comments.
Download attachment.